We are delighted to announce that Dr Carol J Baker is our new Global Vaccine Engagement Adviser.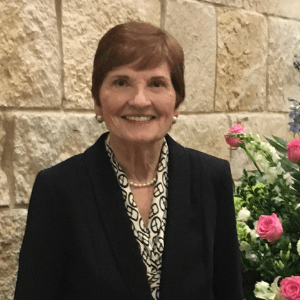 Dr Carol J Baker is a highly accomplished infectious diseases clinician, teacher and vaccinologist. She is affectionately known as "the Godmother of group B Strep prevention" for her groundbreaking research into GBS disease.
It was down to Dr Baker's research and subsequent advocacy alongside parent groups in the early 1990s that led the USA to adopt routine screening and antibiotics to reduce early-onset GBS disease. This decreased rates of GBS infection in newborn babies by more than 80 percent. Her discoveries about the relationship between infant GBS infection and maternal immunity, paired with her international advocacy work, helped create and build a global focus on developing a much-needed GBS vaccine, with candidates currently in clinical trials. She continues to work toward her ultimate goal of preventing GBS infection through vaccinating women during pregnancy.
I am absolutely delighted to welcome Carol as our Global Vaccine Engagement Adviser. Her pioneering research has led to so many babies' lives being saved over the years. Carol has been a long-standing supporter of the charity's work, and I am especially pleased to be continuing and developing this relationship. Working together, we will combine decades of clinical research expertise with slightly fewer decades of representing the parent voice. Together we will continue to push for the development of a safe, effective and cost-effective GBS vaccine that would save so many lives.

Jane Plumb MBE FRCOG FRSA, Chief Executive at Group B Strep Support
I am honoured to take this role on for Group B Strep Support. I have advised and worked with them informally for many years, and have been impressed with their commitment to improve GBS prevention in the UK and their calls for more focus on a GBS vaccine. I look forward to working with them to champion the development of a GBS vaccine that will save countless lives.

Dr Carol J Baker
All our work to stop group B Strep infection depends on the generosity of our supporters. If you would like to make a donation to help make a difference, every penny is greatly appreciated. Thank you.