Changing rates of GBS infection in babies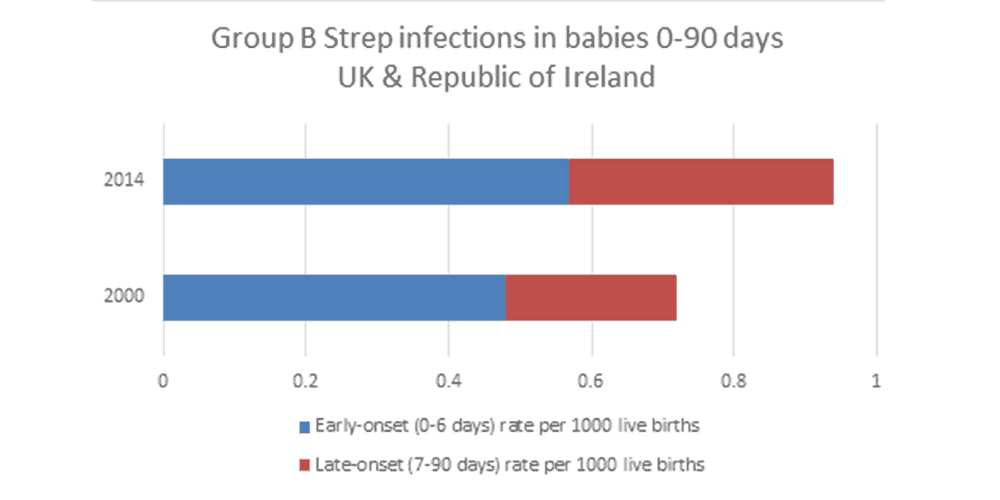 Increasing incidence of group B Strep infections in babies in the UK and Republic of Ireland
The latest survey of  the incidence of group B Strep infection reports a rise of 51% in the number of group B Strep infections in babies aged 0-90 days (and a 31% rise in the rate per 1,000 live births) in the UK and Republic of Ireland in the 13-month surveillance period during 2014-5 compared with 2000-1 (to 0.94 from 0.72 per 1,000 live births). Read a summary of the 2014-5 study here, and a summary of the 2000-1 study here.
Thankfully, the number of babies who died from their group B Strep infection was no higher in 2014-5 than in 2000-1 (53), but more than twice as many survivors in 2014-5 were reported as having major, minor or possible disability at discharge (71) compared with 2000-1.
On average:
2 babies a day develop GBS infection
1 baby a week dies from GBS infection and
1 baby a week survives with long-term disability
These increases are particularly shocking since, in between these two extensive studies, the Royal College of Obstetricians & Gynaecologists introduced their risk-based prevention guidelines in 2003. These guidelines had been expected to effect a fall in early onset (0-6 days) GBS infections by 50-60%.
The potentially preventable early-onset group B Strep infections (in babies aged 0-6 days) are shown in the blue bar – the infections that the risk-based prevention strategy had been expected to reduce.
The rate of late-onset group B Strep infections (in babies aged 7-90 days), shown in the red bar, has also increased. Sadly, these cannot currently be prevented.
In the future, a GBS vaccine will be developed to prevent most group B Strep infection – early and late onset, as well as stillbirths and maternal infections – but this is still many years away. More needs to be done now to prevent GBS infections in babies.
In countries that screen routinely for group B Strep, such as the United States, the incidence has fallen dramatically since the introduction of prevention strategies:
US Data Image reference: adapted from Jordan HT, Farley MM, Craig A, et al. Revisiting the need for vaccine prevention of late-onset neonatal group B streptococcal disease. Pediatr Infect Dis J 2008;27:1057-64.
As the graph shows very clearly, intravenous antibiotics given in labour against group B Strep infection have been hugely effective at reducing the incidence of early-onset group B Strep infection, but have had no impact on late-onset group B Strep infection. The rate of early-onset GBS infections in the US has fallen still further after 2008. For 2016, the US national estimated rate for early onset GBS infection was 0.22 per 1,000 live births and for late onset 0.25 (click here). For 2014-5 in the UK and Republic of Ireland, the rates were 0.57 for early-onset and 0.37 for late onset per 1,000 live births respectively.
For the data series published by Public Health England and its predecessors on the incidence of GBS bacteraemia (GBS detected from the blood) from 2001 onwards, please click here.