One of London's newest half marathons through Westminster and the City taking in the best of what London has to offer. Be part of one of the most exciting new events and join team GBSS today.
The event is not your average half marathon! From cultural landmarks and heritage to the city's quirky and hidden secrets, runners explore the capital on a route like no other!
Applications to join Team GBSS in 2024 are open! When applying for a charity place you agree to pay a registration fee of £30 and to raise at least £350.
Event Details
Date:

7 April 2024

Location:

Central London

Registration Fee:

£30

Fundraising Target:

£350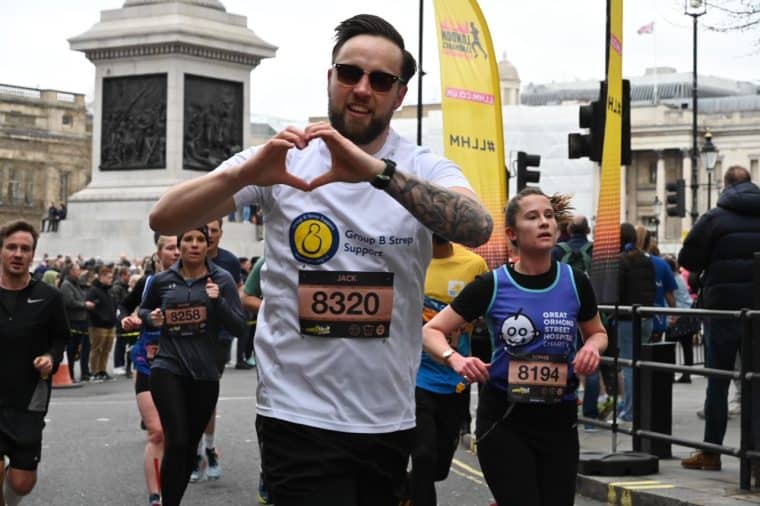 *This date is subject to final permission being granted for LLHM 2024 to go ahead.
Yesterday was a great day with an incredible atmosphere throughout the course once again! Was a great motivation seeing everyone at the Group B Strep Support cheer station as well! Always a pleasure supporting such an incredible charity!

Jack
We will be with you every step of the way:
Dedicated fundraising and training support, including a fundraising pack and regular updates
Your own GBSS t-shirt or running vest
A loud and bright cheering team along the route
Facebook group so you can meet other runners and feel like a real team
Own place
If you are successful in securing a ballot place, we'd love for you to join our team. There's no minimum fundraising pledge and you still get all the great Team GBSS benefits!
Got your own place for this event?
Got a question?
We would love to hear from you and answer any question you may have about taking on the London Landmarks Half Marathon for Group B Strep Support. Call the fundraising team on 0330 120 0795 or e-mail fundraising@gbss.org.uk.