We are indebted to our expert medical advisers. They are invaluable in ensuring the medical information the charity provides is accurate and up to date. We are grateful to each for their gifts of time, knowledge and expertise and their ongoing support.
Global Vaccine Engagement Adviser
We are delighted that Dr Carol J Baker is our Global Vaccine Engagement Adviser. Dr Baker is a highly accomplished infectious diseases clinician, teacher and vaccinologist. She is affectionately known as "the Godmother of group B Strep prevention" for her groundbreaking research into GBS disease.
It was down to Dr Baker's research and subsequent advocacy alongside parent groups in the early 1990s that led the USA to adopt routine screening and antibiotics to reduce early-onset GBS disease. This decreased rates of GBS infection in newborn babies by more than 80 percent. Her discoveries about the relationship between infant GBS infection and maternal immunity, paired with her international advocacy work, helped create and build a global focus on developing a much-needed GBS vaccine, with candidates currently in clinical trials. She continues to work toward her ultimate goal of preventing GBS infection through vaccinating women during pregnancy.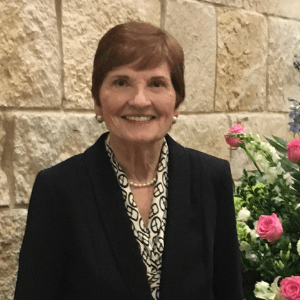 Dr Carol J Baker
Dr Carol J Baker is Professor of pediatrics, McGovern Medical School, Houston, Texas. 2019 Albert B. Sabin Gold Medal recipient.
"I am honoured to take this role on for Group B Strep Support. I have advised and worked with them informally for many years, and have been impressed with their commitment to improve GBS prevention in the UK and their calls for more focus on a GBS vaccine. I look forward to working with them to champion the development of a GBS vaccine that will save countless lives."
Medical Advisory Panel
Our Medical Advisory Panel comprises multi-disciplinary experts in the fields of obstetrics, midwifery, neonatology, microbiology, vaccinology and epidemiology.
The members of the GBSS Medical Advisory Panel are:
Professor Philip Steer FRCOG (Chair)
Prof Philip Steer chairs the Group B Strep Support Medical Advisory Panel. He is Emeritus Professor of obstetrics at Imperial College and a member of the group that produced the RCOG's 2017 group B Strep guidelines. Until 2014, he was a consultant obstetrician at the Chelsea and Westminster Hospital in London. He is editor emeritus of BJOG – an International Journal of Obstetrics and Gynaecology and continues to pursue his research and teaching interests.
"All medical professionals involved in the care of pregnant women and newborn babies should be aware of the importance of group B Strep and the steps that can be taken to prevent infection. They should also be aware of the factors that put the baby at particularly high risk. And they need to pass that information on to the women in their care, giving expectant mothers the opportunity to take a simple swab test and give themselves the knowledge of their carrier status; this knowledge could save their baby's life. At the moment, lives are being lost needlessly."
Dr Alison Bedford Russell
Dr Alison Bedford Russell is Neonatal co-Clinical Director at the Liverpool Neonatal Partnership. Alison has a strong interest in neonatal infection, and a passion to ensure the best quality of care is provided for babies and their mothers. Her previous consultant appointments were at St George's, the Chelsea & Westminster, Birmingham Women's and Children's and at Sidra Medicine in Doha. Her research interests and publications have mainly centred on neonatal infection, including research related to group B Streptococcus, neonatal immunology and epidemiology.
Dr Guduru Gopal Rao OBE
Dr Guduru Gopal Rao OBE is Head of Department, Consultant Microbiologist/Lead Clinician Infection Control at London North West University Healthcare NHS Trust, London. He has been interested in the prevention of group B Strep infections in babies for over 20 years. He has served on a number of international and national professional groups including the Department of Health's MRSA Screening Committee, and until recently was an international advisor for The Royal College of Pathologists.
Mrs Philippa Cox
Mrs Philippa Cox is Co-Clinical Director, London Maternity Clinical Network and Consultant Midwife at Homerton University Hospital NHS Foundation Trust, London. She is a Midwifery Assessor for the Centre for Maternal and Child Enquiries (CMACE) and an honorary lecturer with London's, City University.
Dr Sonali Kochhar, MD
Dr Sonali Kochhar, MD has worked for 20 years in a leadership position for Global Phase I-IV Clinical Research Epidemiology and Safety Studies for Vaccines and Drugs including vaccines for pregnant women, infectious diseases and maternal and child programs.